Help build the dream
---
We are proud to offer the opportunity to honor military service members—past, present, and future—particularly our enlisted Airmen Warriors, who through their dedication, sacrifice, courage, and valor have contributed to the preservation of our freedom and way of life. Our Airman Paver Program presents an ideal way to render such recognition. As part of the Base Beautification Program, engraved bricks will be installed in prominent areas along the parade field and adjacent areas at Joint Base San Antonio – Lackland. These engraved pavers are excellent gifts for Basic Military Training graduates and for so many others on special occasions such as promotions, retirements, birthdays, etc. Each paver contains three lines of personalized text with a maximum of 14 letters, characters or spaces per line.
IMPORTANT FACTS ABOUT PAVER INSTALLATION/DELIVERY: Please be aware that pavers are obtained from the engraver in large batches and because of the time it takes to order, receive and install engraved pavers, there will be some period of time, after you complete your purchase, before the paver can be placed on the grounds at Lackland AFB and its location is determined. After you complete this order you will receive two Email Messages. For each of these, if you do not receive the Email in your In-Box, please check for the Email in your Spam or Junk mail box. If still not found there, please contact us at foundation@myairmanmuseum.org. Each Email will be sent to the Email address which you provide in your order. The first email is an immediate recognition of your order. The second will be after the paver is installed at the JBSA-Lackland Heritage Campus.
All pavers become the property of the Airman Heritage Foundation, Inc. The Foundation reserves the right to reject inappropriately worded or offensive pavers. The Foundation is a 501(c)(3) nonprofit organization and is not part of the Department of Defense or any of its components. The Foundation thanks you for your tax deductible support of the USAF Airman Heritage Museum.
Pavers can be purchased online through our website or by mail at the reasonable cost of $80 each, or $75 each for orders of more than one.
Pavers Examples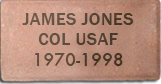 Size: 4″ x 8″
Legacy Pavers
Price: $80.00
2 or more for $75.00